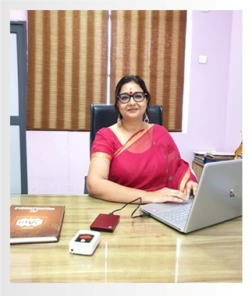 Principal's Desk
Delhi World Public School has been conceived with the vision to harness excellence. From its inception, the school has provided students with abundant resources and best teachers along with the most innovative curriculum and a conducive environment to broaden their horizons and polish their talents. We intend to play a note-worthy role in shaping the future of our "Motherland" by sending from our portal – well balanced, sensitive, sensible and responsible individuals who have all the qualities of mental agility and social consciousness with a sublime sense of spiritually. We have a glorious tradition of imparting "Child-centered" and "Value-based education".
We aim to inculcate academic honesty, moral awareness, discipline and a sense of belongingness in all. I am confident that when given the right guidance and encouragement, our students will be able to imbibe the zeal and zest to succeed and a strong desire to excel. Hard work, perseverance and dedication towards their goals will surely make them successful in life. I would request all parents to acquaint themselves with the various activities conducted in school by going through the almanac, which is a bridge between the school and the parent community.
"Every child has unique dimensions.
We nurture the roots to help them
blossom to perfection".
With blessings
Ratna Verma
Principal
Delhi World Public School