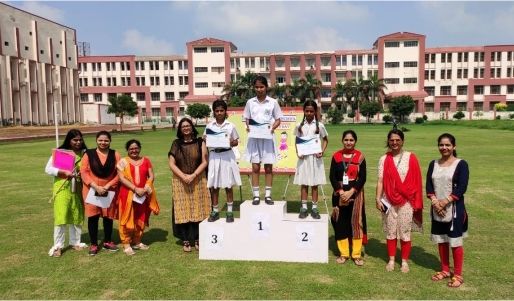 Infrastructure
Delhi World Public School Greater Noida Phase II, is equipped with all modern days infrastructure that complement the noble aim of its foundation. The ultra-modern campus comes with smart classrooms and an elegant design that speaks for itself.
Our architects have gone out of their way to ensure that the building suits the needs of young minds, drawing on years of research to create an environment most conducive for over-all growth.
Our range of facilities, detailed separately, match global standards in education.
Green School
We are committed to instilling the concept of sustain-ability in our students and staff. Our building too is designed so as to promote students to think green. The vibrant designs and colours inspire students to open their minds to the omnipresent possibilities and opportunities in life. The school also maintains a substantial portion of its campus as green areas, also providing children the opportunity to experience the magnificence of the vast varieties of plants, flowers and trees. In addition, the school environs promote a "learning through nature experience" approach as students are encouraged to observe and appreciate greenery and natural environment.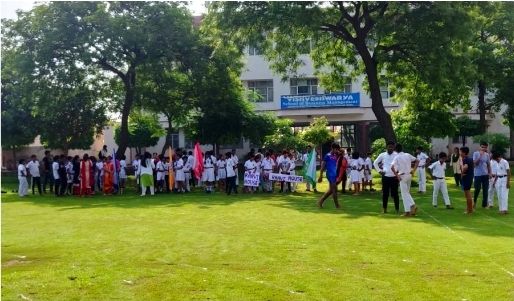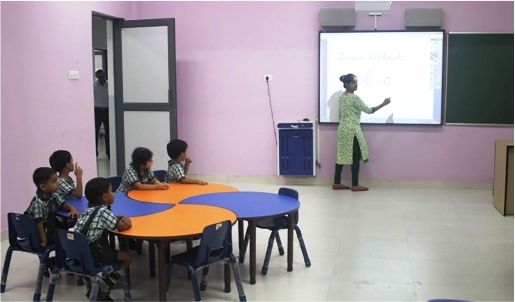 Smart Class-rooms
for learning beyond the classroom via 3-D image
Our school is designed with the concept of Smart Classroom. The idea that has revolutionised the concept of classroom teaching or the way teachers teach and students learn in class. Our smart classroom has an instructor equipped with a personal computer, overhead projector, wireless internet access, DVD player and a smart board. The students and teachers can present their lessons and projects on the large size smart boards and carry out group discussions while presenting their lessons. Teachers can use the computer for preparing lesson plans, completing the grade book, checking emails, making posters, or preparing letters
Activity Room
for learning through play
The school boasts of a beautifully designed activity room which plays a pivotal part in the students development. It's where the children can come in small groups and experience activities and engage themselves in meaningful interactions. Our unique activity room offers games, arts/crafts and story sacks.
We feel it's very important to make children experience working and playing together in small groups as this association brings out the best in them , they learn to express themselves as well as to explore new opportunities around. A mini gym in this room involves students in various physical exercises to keep them physically fit and helps to build their stamina.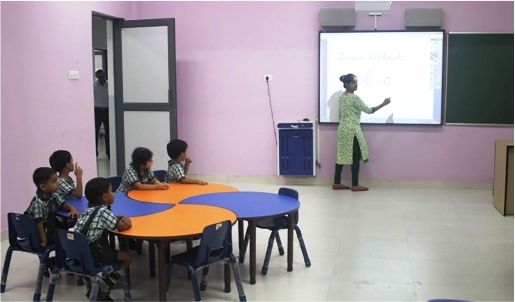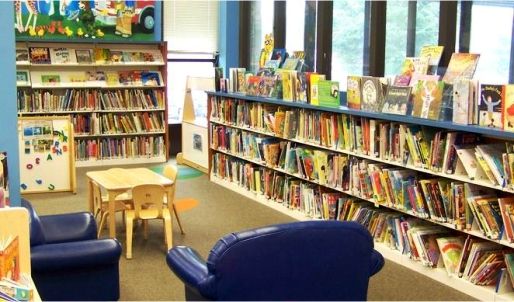 Library
for enhancing wisdom
The school library is central to learning and plays a key role as a place for encouraging innovation, curiosity, and problem solving. In fact, we at Delhi World Public School believe a library is a catalyst in sharpening the literacy skills of the childrens, as well as our library plays a key role in providing knowledge and encourages students towards good reading habit. It can be a central point for engagement with all kinds of reading, cultural activities, access to information, knowledge building, deep thinking and lively discussion. The Delhi World Public School library stores innumerable books, magazines and audio visual CDs to encourage our students to scale new heights.
Auditorium
for confidence building and showcasing talent
The Delhi World Public School auditorium is one of a kind. Specially designed for various activities of the school it is very spacious and comfortable. While the auditorium is meant to showcase talents of Delhi Public Worldites it also acts as a host for many workshops, seminars and other celebrations organised often. It has the capacity to accommodate 500 students. The electrifying sound system and acoustics add to the ambience of the auditorium.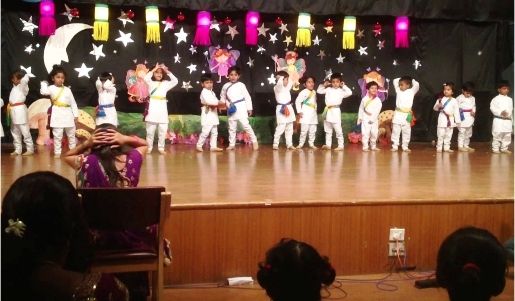 Transport
the bridge between home and school
Our School has a fleet of new GPS enabled air-conditioned buses. A trained escort along with a lady helper travels in every bus and disembarks only after the last child is dropped safely. Safety on the road is given paramount importance. The students embark and disembark within the school campus under the vigilance of transport managers and teaching staff. All the buses are equipped with a medical kit for emergency. In case of a delay due to unforeseen circumstances parents are immediately informed through SMS. We provide school transport facility to Dadri, Sikandrabad, Bulandshahar, Gr. Noida, Ghaziabad and extension possibility to Noida & Khurja.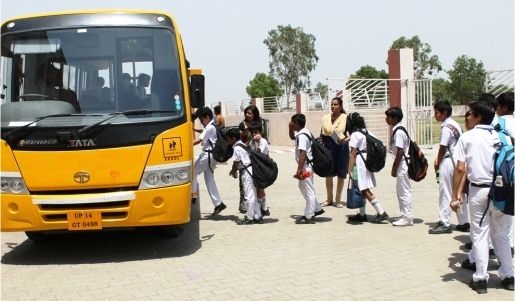 Route 1
| | |
| --- | --- |
| Dadri | 7:30 am |
| Sikandrabad | 7:30 am |
| Bulandshahar | 7:30 am |
| Greater Noida | 7:30 am |
| Ghaziabad | 7:30 am |
| Noida | 7:30 am |
| Khurja | 7:30 am |
Route 2
| | |
| --- | --- |
| Dadri | 7:30 am |
| Sikandrabad | 7:30 am |
| Bulandshahar | 7:30 am |
| Greater Noida | 7:30 am |
| Ghaziabad | 7:30 am |
| Noida | 7:30 am |
| Khurja | 7:30 am |
Route 3
| | |
| --- | --- |
| Dadri | 7:30 am |
| Sikandrabad | 7:30 am |
| Bulandshahar | 7:30 am |
| Greater Noida | 7:30 am |
| Ghaziabad | 7:30 am |
| Noida | 7:30 am |
| Khurja | 7:30 am |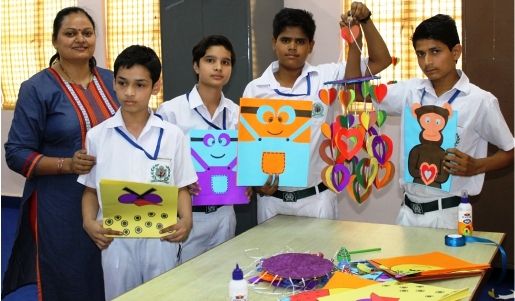 Art & Craft
that keeps your human instinct alive
In addition to drawing and painting, students explore a wide range of crafts including pottery, handmade paper, recycling of paper, cotton spinning, weaving and textiles. Our art and craft facilities are well re-sourced based on Indian traditions and culture. Students are educated to learn and appreciate art and take pride and pleasure in colours and creativity.
Sports
to improves your concentration
At Delhi World Public School, we believe that Sports plays an important role in the life of a child. The qualities of leadership, teamwork and sporting spirit are learnt on the sports field. Sport and games are compulsory and an integral part of a child's development. Programmes include competitive sport, outdoor adventure sports, regular fitness and physical recreation activities.
The school has an excellent outdoor sports facilities including a full size football ground, cricket, hockey, tennis, basketball, volleyball, track and field sports etc. In addition, Delhi World Public School, NH-91, VGI Campus also boasts of indoor badminton court. The sports teachers do the 'talent spotting' to encourage children to take up the sport that suits their interests and skills.