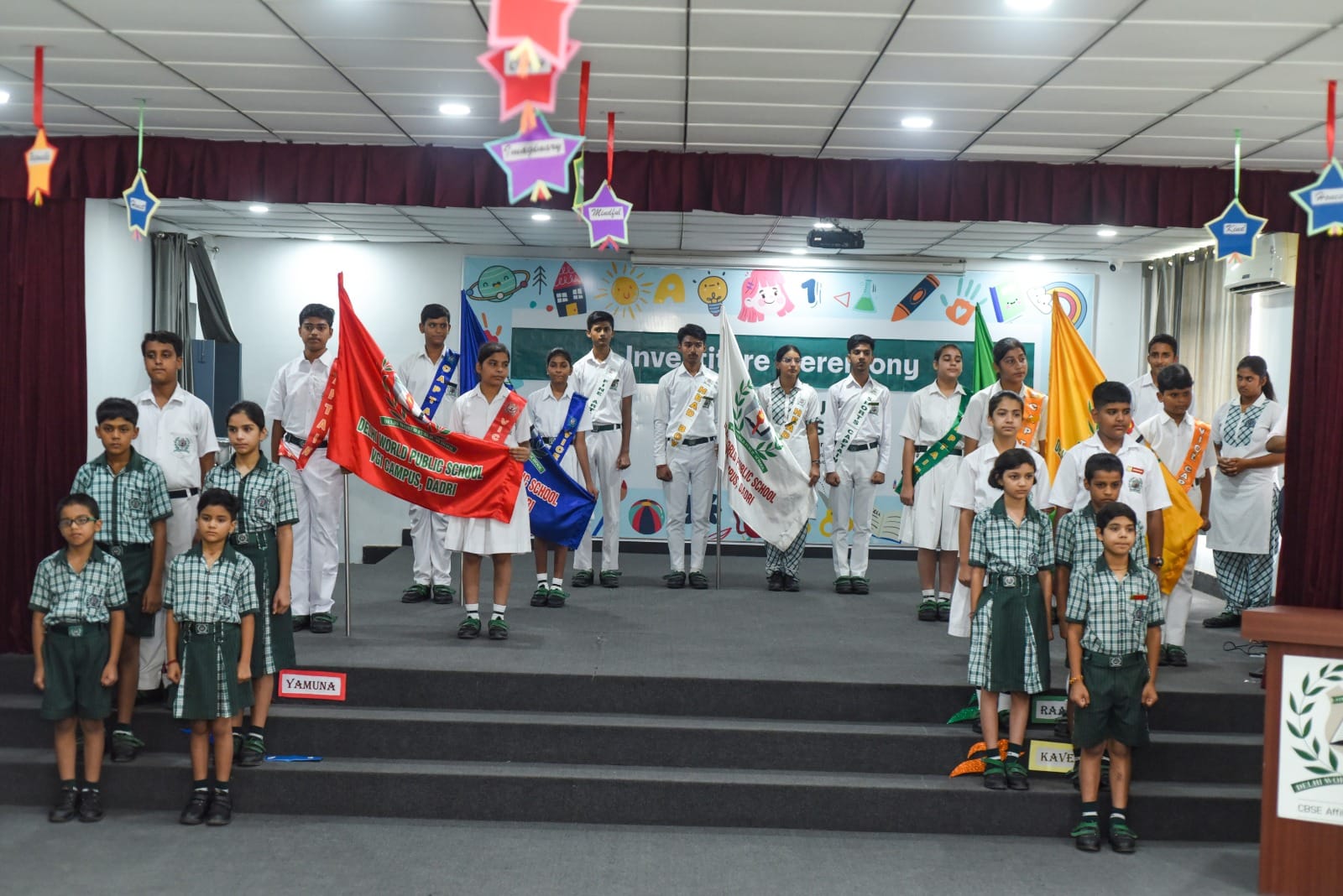 𝐃𝐞𝐥𝐡𝐢 𝐖𝐨𝐫𝐥𝐝 𝐏𝐮𝐛𝐥𝐢𝐜 𝐒𝐜𝐡𝐨𝐨𝐥 embraced the spirit of patriotism and unity as it celebrated Independence Day with great enthusiasm and reverence. The campus was adorned with tricolor, symbolizing the rich diversity and unity of our nation. The event commenced with the hoisting of the national flag by 𝐌𝐫. 𝐒𝐮𝐧𝐢𝐥 𝐉𝐢𝐧𝐝𝐚𝐥 (Chairman), 𝐃𝐫. 𝐏𝐨𝐨𝐫𝐧𝐢𝐦𝐚 𝐒𝐡𝐚𝐫𝐦𝐚 (COO), 𝐌𝐫𝐬. 𝐑𝐚𝐭𝐧𝐚 𝐕𝐞𝐫𝐦𝐚 (Principal), and 𝐃𝐫. 𝐀𝐦𝐢𝐭 𝐊𝐮𝐦𝐚𝐫 𝐀𝐠𝐚𝐫𝐰𝐚𝐥 ( Dean Academics), in a poignant tribute to the sacrifices made by our freedom fighters. The air was filled with the soul-stirring strains of the National Anthem, evoking a deep sense of pride and honor among the attendees. Students took the stage with great enthusiasm, showcasing their talents through spirited dance performances that captured the essence of India's cultural diversity.
The cultural activities that followed were a beautiful tapestry of our heritage, with each act serving as a tribute to the journey of our nation. Amidst the festive atmosphere, the investiture ceremony took center stage, reflecting the school's commitment to nurturing leadership qualities among its students. House captains were carefully chosen to lead their respective houses, embodying values of responsibility, integrity, and teamwork.
The newly appointed leaders, including the Head Boy, Head Girl, House Captains, Vice Captains, and other council members, took an oath to uphold the school's values and contribute positively to the school community.
This dual celebration exemplified the Delhi World Public School's dedication to fostering not only academic excellence but also character-building and civic consciousness.