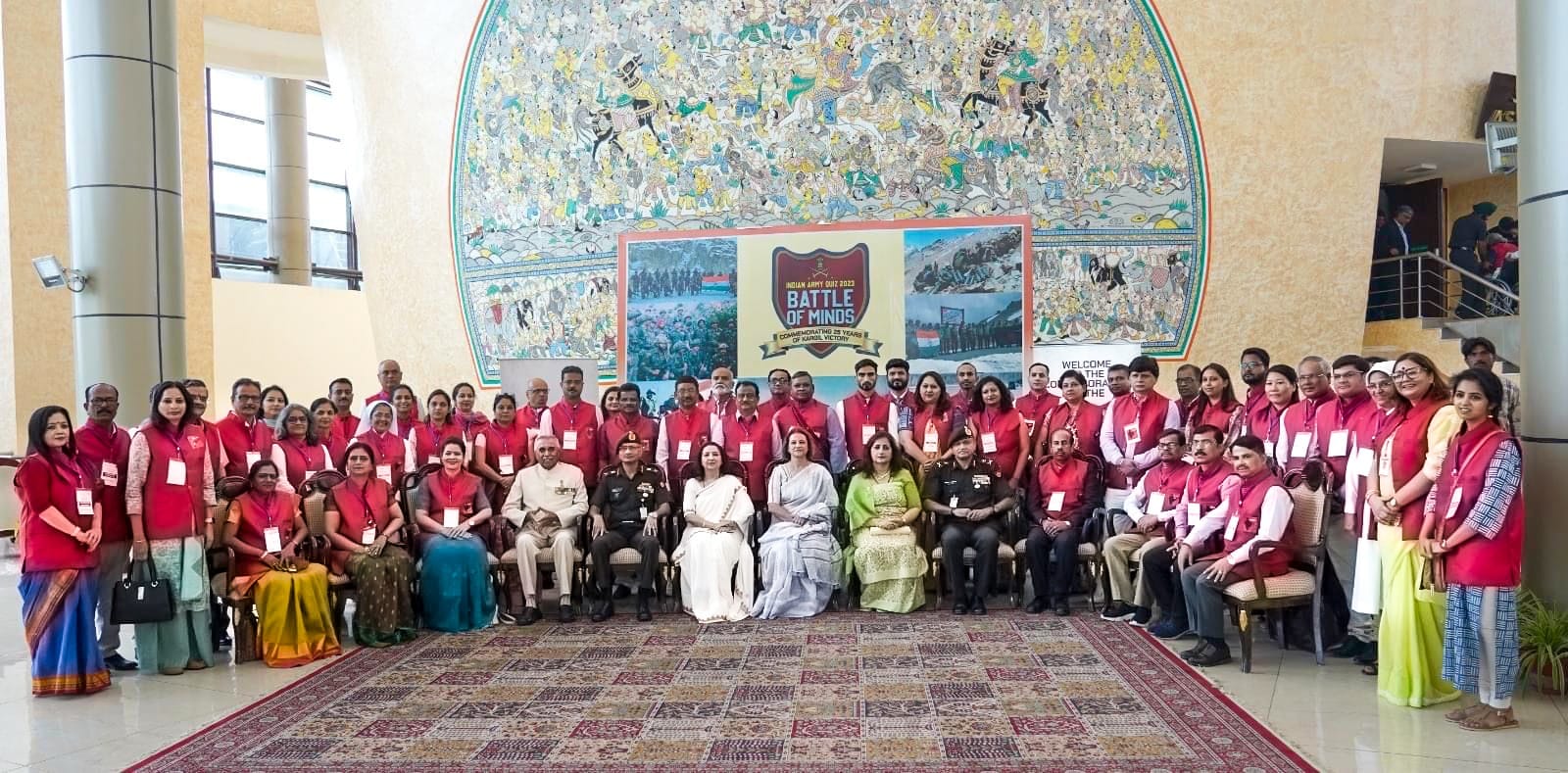 In remarkable recognition of our school's prominence, an exclusive and prestigious invitation was extended to our esteemed principal, 𝐌𝐫𝐬. 𝐑𝐚𝐭𝐧𝐚 𝐕𝐞𝐫𝐦𝐚. This distinguished invitation came from Teach India, a flagship 𝐂𝐨𝐫𝐩𝐨𝐫𝐚𝐭𝐞 𝐒𝐨𝐜𝐢𝐚𝐥 𝐑𝐞𝐬𝐩𝐨𝐧𝐬𝐢𝐛𝐢𝐥𝐢𝐭𝐲 (CSR) program orchestrated by none other than The Times of India. The purpose behind this extraordinary invitation was to have 𝐌𝐫𝐬. 𝐑𝐚𝐭𝐧𝐚 𝐕𝐞𝐫𝐦𝐚 represent the state of Uttar Pradesh at the illustrious Grand National Launch of the 𝐈𝐧𝐝𝐢𝐚 𝐀𝐫𝐦𝐲 𝐐𝐮𝐢𝐳 (IAQ) 2023. The event, a splendid affair that spanned over the course of two hours, unfolded on the morning of Wednesday, August 16th.
The chosen venue for this significant occasion was none other than the renowned Sam Maneckshaw Auditorium, an establishment nestled within the prestigious environs of Delhi Cantonment.
The event itself was graced by the distinguished presence of General Manoj Pande, an accomplished military leader adorned with the honors of PVSM (𝐏𝐚𝐫𝐚𝐦 𝐕𝐢𝐬𝐡𝐢𝐬𝐡𝐭 𝐒𝐞𝐯𝐚 𝐌𝐞𝐝𝐚𝐥), AVSM (𝐀𝐭𝐢 𝐕𝐢𝐬𝐡𝐢𝐬𝐡𝐭 𝐒𝐞𝐯𝐚 𝐌𝐞𝐝𝐚𝐥), VSM (𝐕𝐢𝐬𝐡𝐢𝐬𝐡𝐭 𝐒𝐞𝐯𝐚 𝐌𝐞𝐝𝐚𝐥), and ADC (𝐀𝐢𝐝𝐞-𝐝𝐞-𝐂𝐚𝐦𝐩).
General Pande's significant role as India's 29th Chief of the Army Staff lent an air of profound importance to the occasion. This event not only celebrated knowledge but also fostered a sense of national pride and unity, underscoring the vital connection between education, awareness, and the nation's defence.